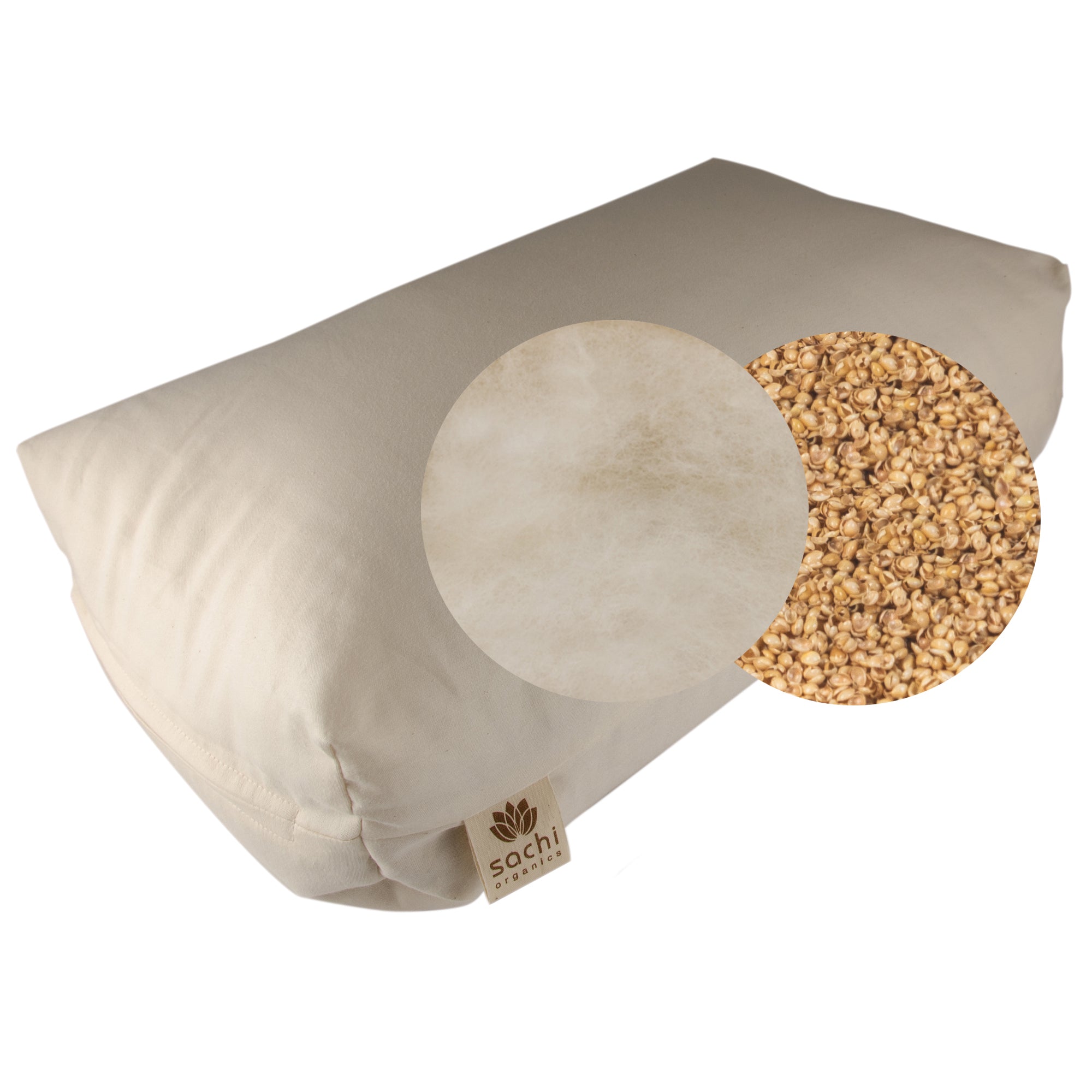 Shambho Pillow: Natural Wool & Millet
Save

Liquid error (snippets/product-badge line 32): Computation results in '-Infinity'

%
 

AVAILABILITY

                              We hand fill each pillow order and ship in 3-5 days.
Comfortable & Supportive
Contours around your head, neck & shoulders
Organic millet hulls & Natural Wool
Patented dual chamber design
Perfect for side and back sleepers 
Designed to fit your head, neck and shoulders.
The patented dual chamber and squared corner design keeps the filling under your head and neck where you need it.
The Shambho pillow measures 16" x 10" 4.5". The finished pillow height is about 25-30% wool and 70-75% hulls.
The Shambho Pillow provides a great solution for side sleepers who need between 4" - 6" of pillow height. Most pillows don't give you that much which is why many wake with their neck in an uncomfortable position. You end up wakening and trying to adjust the pillow. Once your head and neck are aligned and cradled in the buckwheat pillow you have a better chance at staying asleep. With the dual chamber design you get a generous foundation of moldable hulls to keep your head elevated and your neck aligned and a soft layer of wool batting on top to cushion your face and ear. Together these two fillings help you establish and maintain comfortable spinal alignment all night long.


The pillow is easily adjusted: Place the pillow on your bed with the wool on top 
for 4" of loft. If you are broad shouldered and need more loft, rotate the pillow a quarter turn so that it sits on its side with the wool facing you. In this position the Shambho Pillow also makes a great headrest to prop yourself for bedtime reading. For a softer feel and less support you can easily open the zipper and remove some of the hulls. Made with

Sateen fabric of organic cotton fibers and filled with

organic

millet hulls and all natural wool.
Product Materials: Natural Wool. Organic buckwheat hulls. Covering: Sateen fabric of organic cotton fibers.
The pillow is hand made in our production studio in Albuquerque, NM.

This pillow contains no flame retardants and is chemical free.

What is the difference between buckwheat and millet hulls?
BOTH PILLOWS ARE EQUALLY FIRM AS WE SLEEP ON THEM; THEY OFFER THE EXACT SAME NECK SUPPORT. THE MAIN DIFFERENCE LIES IN THE TEXTURE OF THE FILLING:
Buckwheat hulls are large hulls that trap a lot of air which is then blown through the pillow when we move in our sleep. Buckwheat hulls rustle when we move. Millet hulls are tiny, they make no sound when they move and the filling feels smooth and velvety.
Millet hulls are not softer than buckwheat hulls, but they do feel more velvety because they are so tiny, round, and smooth.
All hull pillows are temperate (they do not take on heat in the summer or cold in the winter). Buckwheat hulls ventilate more easily given their large irregular shape. 
World Class Wool is an all natural wool batting that showcases a cost-effective alternative for organic wool. No chemicals, pesticides, or herbicides are used in the processing of this wool. Every opportunity is taken to source this wool directly from family farms. Several different sheep breeds are used to create the wool including Dorset and Columbia.
The wool fill will compress 25% - 30% within the first couple of months but it will remain comfortable and supportive.
This pillow contains no flame retardants and it's chemical free.