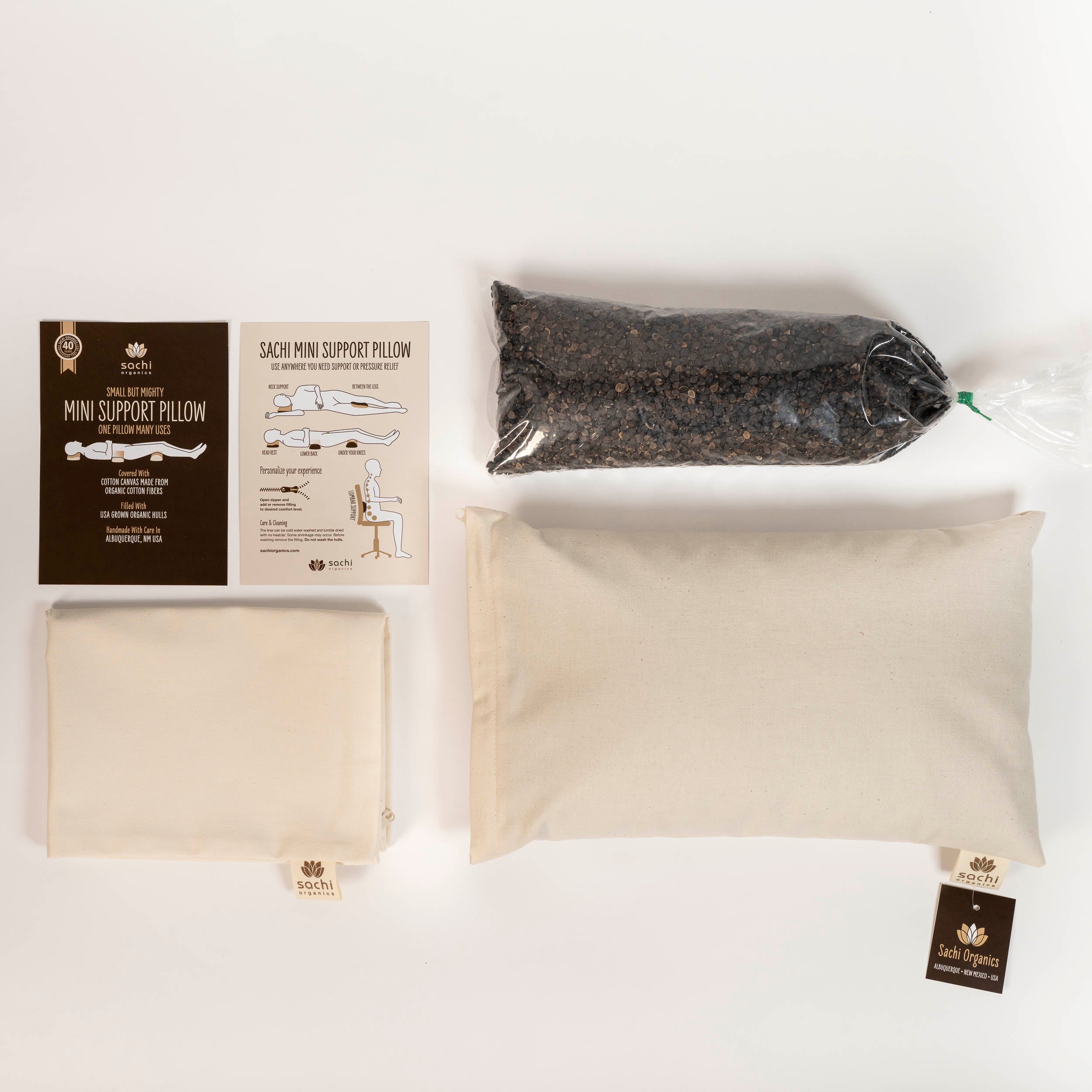 Mini Support Pillow Set
Save

Liquid error (snippets/product-badge line 32): Computation results in '-Infinity'

%
SMALL SIZE 9" X 15" The Mini Support pillows small size fits where you need it and conforms and contours to your body.

PILLOW COVER INCLUDED Soft cotton sateen fabric cover made from organic fibers.

EXTRA ORGANIC BUCKWHEAT HULLS INCLUDED Our pillows come with extra hulls to customize your experience.

SUPPORT WHERE YOU NEED IT The Sachi Organics Mini Support pillow fits anywhere and contours to your body. Use it for Lumbar support, between the knees, under your neck, and anywhere else you need a little more support.

ADJUSTABLE TO FIT YOU Zippered opening allows the fill level to best suit your needs
The Mini Support pillows small size fits where you need it. Use it for lumbar support, neck support, between the legs, under your head and anywhere else you need extra support. We use premium quality cotton canvass fabric of organic fibers with a YKK zipper opening so you can easily adjust the fill level. The more fill the firmer the pillow will feel. Sateen Pillow Cover Included. Extra Organic Buckwheat Hulls Included. The Mini Support Pillow comes with everything you need. The Sachi Organics Mini Support Pillow is hand made in Albuquerque NM by our family business. We have been making premium quality natural bedding products including bed pillows, mattresses and futons since 1982. ORGANIC BUCKWHEAT HULLS. We fill the pillow with USA grown organic buckwheat hulls. Our hulls are triple air washed and heat treated. SLEEP COOLER
Buckwheat hulls are temperate and do not retain heat Buckwheat hulls ventilate more easily given their asymmetrical shape.
PILLOW COVER INCLUDED Soft cotton sateen fabric cover made from organic fibers.
EXTRA ORGANIC BUCKWHEAT HULLS INCLUDED Our pillows come with extra hulls to customize your experience.
SUPPORT WHERE YOU NEED IT The Sachi Organics Mini Support pillow fits anywhere and contours to your body. Use it for Lumbar support, between the knees, under your neck, and anywhere else you need a little more support.
ADJUSTABLE TO FIT YOU Zippered opening allows the fill level to best suit your needs.
Product Materials: Organic buckwheat hulls. covered in a canvas fabric of organic cotton fibers.
What is the difference between buckwheat and millet hulls?
BOTH PILLOWS ARE EQUALLY FIRM AS WE SLEEP ON THEM; THEY OFFER THE EXACT SAME NECK SUPPORT. THE MAIN DIFFERENCE LIES IN THE TEXTURE OF THE FILLING:
Buckwheat hulls are large hulls that trap a lot of air which is then blown through the pillow when we move in our sleep. Buckwheat hulls rustle when we move. Millet hulls are tiny, they make no sound when they move and the filling feels smooth and velvety.
Millet hulls are not softer than buckwheat hulls, but they do feel more velvety because they are so tiny, round, and smooth.
All hull pillows are temperate (they do not take on heat in the summer or cold in the winter). Buckwheat hulls ventilate more easily given their large irregular shape. This will make a difference for those who tend to perspire at night and wake up to a damp pillow every morning).
The pillow is hand made in our production studio in Albuquerque, NM.
extra-buckwheat-hulls,extra-millet-hulls